I gave up with the Google Workspace Collaborative Inbox.
It had a number of problems for my use case, including:
I couldn't get the custom footer working
Replies to the originator go as CC: instead of TO: as the group address is always the only TO: address.
Sending an email from the Groups web view, you always have to click CC: to add an address (we want to send emails from our collaborative inbox as well as process incoming emails).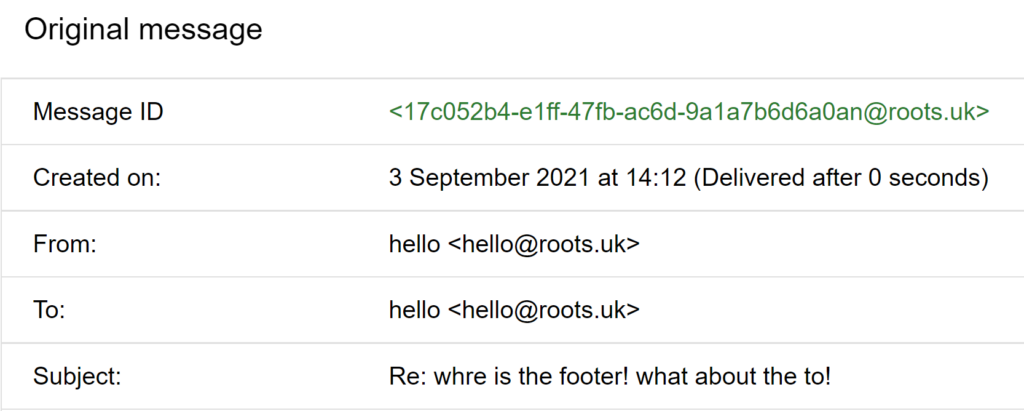 On the plus side, it did allow email conversations to be assigned to members of the group but I didn't get as far as testing if marking the conversation as 'complete' also allow it to be hidden from view by default.
So what now?
Option 1: Find a suitable helpdesk software platform
like Zendesk, FreshDesk, Gekko, HelpScout, FreeScout, uvDesk or osTIcket (and that's the shorter list of all the platforms I stumbled upon).
I mentioned before I like to keep overhead to a minimum. These are typically charged between £4 and £40 per month per user and we have 4 users covering the shop email account, so thats £192-£1920 per year of cost. Some have limited free offerings but the limitation often includes a limited number of records being kept which is too limiting for me.
The exceptions here are FreeScout, uvDesk and osTicket which have open source editions. I can run those on my own server and the only cost is time to set them up and maintain them. I can also alter them to suit our needs and processes and I have full control and access to all data. There's a good argument that an open source solution will cost me more than £192 per year to run but the hosted £192 option doesn't include all the nice things I could do with open source. The cost of open source is relatively fixed and not dependant on the number of users I have.
I've also got the option of writing my own too. Our needs are not too complex so processing email into a database and having a web front end (viewed like an email client) allowing our users to assign and reply and attach things is well within my technical capabilities but currently outside of my available time to implement.
Ticketing solutions also start edging into full CRM (Customer Relationship Management) and whilst I've been considering those for a while we're a long way off yet.
besides, option 2 is far simpler and simple is good.
Option 2: Use a dedicated email address and give everyone delegated access
Which is exactly what we do now as our legacy account never had the Collaborative Inbox option. The downsides are:
Another user account to pay for (£5/month)
Having an account with another password (ok, that's trivial, I'll be the only one with the password and I'll delegate access to everyone).
If you have a lot of users, knowing if someone was already working on a customer enquiry or a supplier request can get confusing – the app solutions in option 1 often had 'collision prevention' so two agents wouldn't work on the same thing at the same time.
As we only have 4 users and a low volume of mail to our shared email, Delegated Access is the solution I'm using. There's probably a limit to how many delegates you can allow to access your email, in one place I saw 10 as the limit and in another 100 so beware if you've lots of users of the shared email account.
Setting up delegated email
First, delete the group 🙂
Admin > Users > Add a user
First name = Hello, Surname = Roots, [drifts off remembering this post about names for users and how not every culture has a Surname]
email = hello@sroot
[Using an incognito window for the new account] Try to login, I can't because 2FA is enforced, so Admin > User > hello roots (the user name) > 2 Step Verificatoin > get backup verification codes
Login with backup code, accept terms, set new password, enroll in 2 step verification, select phone prompt, then have to add the account to my phone usng another backup code.
Now, check users can allow delegated access (probably not by default). Unfortunately this change didn't happen instantly for me, so you might have to come back to this point later.
Settings for gmail > User settings > Mail delegation (or search for delegation)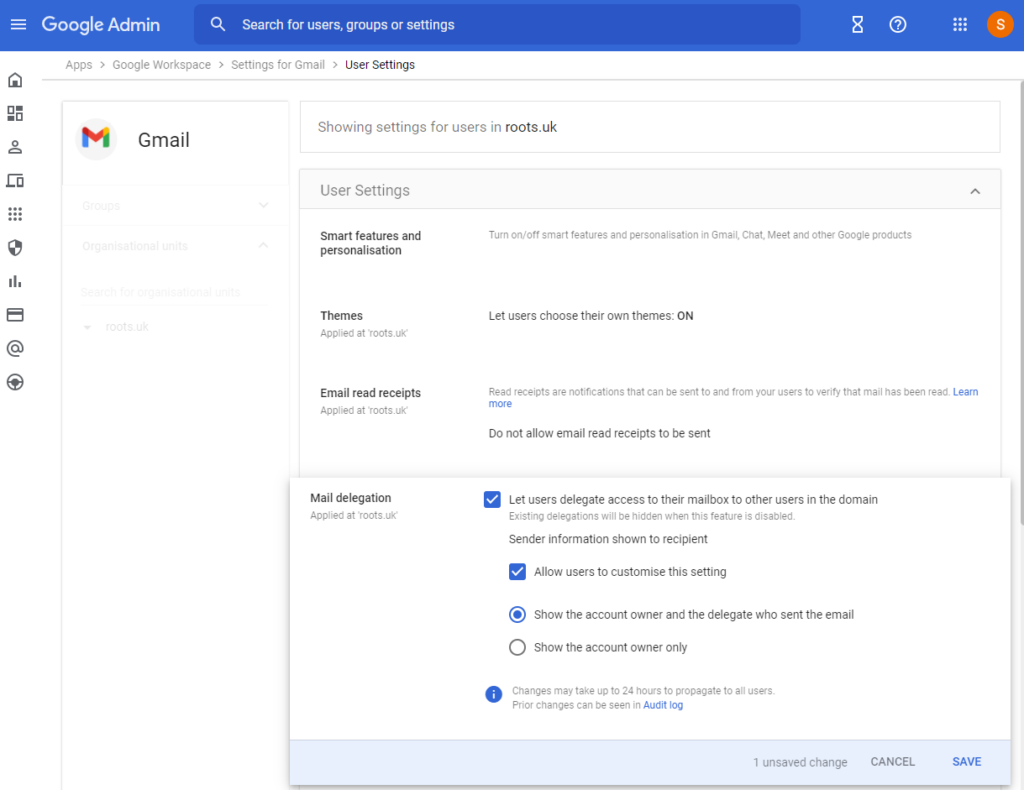 Add a delegate, instructions here but short version: settings > all settings > accounts > Grant Access to your account > enter the email address of the other user. They need to accept the invite.
These are my preferred settings for our shared account.

Once the invite is accepted a user can switch to the delegated email account (in this case hello@roots.uk) by selecting it from the top right panel icon with their initial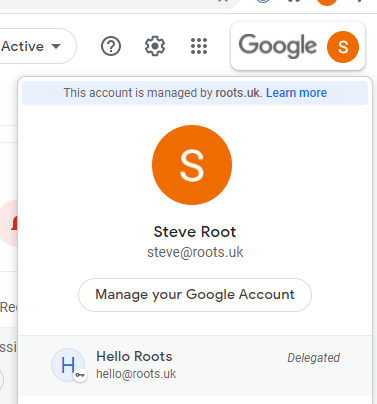 Whilst I'm here, I'd rather have my photo on my profile than my initials but by default users can't edit their profile. Admin > Users > More is where you can change that.

So, I now have users set up and shared email account for us through delegated access. It's the end of the day so I'm stopping here. Next task from my list will be setting up the server/infrastructure emails like noreply@