Migrating Google Sites to the new domain
We use Google Sites for our intranet. It's a place we keep policies and procedures for quick reference and easy updating. Access is restricted to anyone with a "roots.uk" email address. I struggled to work out how to migrate this service to our new domain until I found this guide, and then it was obvious!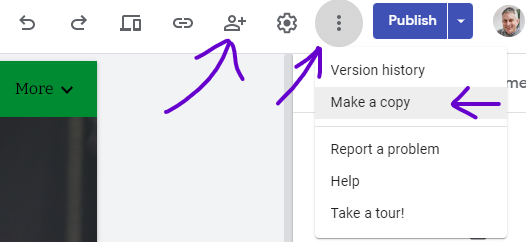 Step 1: In the old domain, add an editors email address from your new domain ("share with others" near the top right).
In the new domain, go the site that was shared with you, choose the menu item "Make a copy"
Now you have a copy of the site in your new domain. For us, I use the 'share with others', link and change the link options to suit, so Anyone in "roots.uk" can access our intranet" but it's not a public site.